As of October 2019, Canvas apparently has new requirements for browser cookie settings.
They are now requiring "allow third-party cookies" to be turned on in the browser, or it won't function properly with our content.
In Canvas, the problem presents itself with an Access Denied message, as shown here:



You might be able to get around this by opening our content in a new window, but unfortunately, there is no coding on our side that will get around this issue.
NOTE: Students with all browser types and all LMSes have occasionally encountered this message due to cookie settings. If your students are not using Canvas, but are seeing the Access Denied message, please refer to this article.
The fix for Canvas users will depend on the student's browser. Some students may simply prefer to use Firefox, as noted below.
Cookie settings for Canvas compatibility
Students need to check the following settings in any browser they use to access NROC English or NROC Math in Canvas:
Chrome: Turn off "Block third-party cookies".
Safari: Turn off "Prevent cross-site tracking", then close and reopen the browser.
Firefox: Seems to define third-party cookies differently than the others. Our content still works inside the Canvas frame with "Block third-party cookies" set to true.
Please clear your browser's cache if the fix does not work immediately.
Need help? http://NROCnetwork.org/ticket
Editing LTI links in Canvas
As the instructor or LMS administrator, you may wish to test the option of forcing our LTI links to open in a new browser tab.

There are three possible types of LTI links that you may need to correct.
Instructor Resources >> Course Management and Reporting (one link per course, and only if it is not working FOR THE INSTRUCTOR; students do not use this link).
Unit X / Map / Begin Here links (these have gone by several different names over time, but they are the primary Unit links to NROC content. There are 10 in NROC English and 19 in NROC Math).
Tutor Sim

links (19 links, only in NROC Math)
We recommend testing the links in one unit first to see if this fixes the problem, before doing all of them.
In Canvas, look for the three dots menu to the right of each link. When you click it, select Edit, and you will see this screen, where you can check "Load in a new tab" then Update. Now you can test the link as a student, and see if it fixes the problem for your students.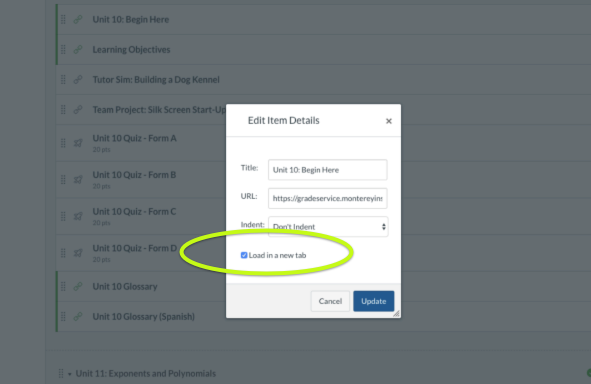 Getting Help
If you need assistance or discover anything that we at NROC should be aware of, please reach out via our support ticket system: http://NROCnetwork.org/ticket