Feb 2020: In keeping with Adobe's end-of-life for the Flash product, all NROC courses and HippoCampus.org content have been updated to HTML5 only and all Flash content has been retired. This article is for historical purposes only.
---
This article contains the following information:
Background | How to Determine your Version | Next Steps to Upgrade
---
Note: This article does not apply to EdReady, NROC's personalized college readiness tool. Only NROC Math courses installed in a learning management system (LMS) are affected by the change from Flash to HTML5. EdReady has always used only non-Flash resources and requires no update.
Background
In May of 2017, NROC announced that all math* courses had been converted from Flash to HTML5. At that time, we removed the Flash versions from distribution channels, and encouraged those who were using Flash courses to update to the new HTML5 versions.
In July of 2017, Adobe announced it would end support for Flash in 2020. However, the NROC technical team has continued to test, maintain, and support our Flash-based courses to ensure all members adequate time to install the new course versions.
Now it is time for NROC to focus our resources on HTML5. As of August 2018, NROC will no longer be supporting the Flash-based math courses. The Flash courses will continue to work as they do now for the foreseeable future; however, if a problem does arise, the only solution will be to update to the HTML5 version.
We highly recommend that every member institution installs and distributes the HTML5 math courses as soon as possible, so instructors have adequate time to personalize their courses before the next term.
*Note: NROC Developmental English was originally built using HTML5, so there are no changes needed. EdReady is not affected by this change.
Do I Have a Flash or HTML5 Course?
You can determine if your course is Flash or HTML5 by the visual appearance of the Topic or Unit interface.
NROC Algebra 1 or NROC Developmental Math, standard version: Click on any Topic link in the course.


NROC Developmental Math with Pre-Assessments: Click on any link titled "Unit X Map" or "Unit X - Begin Here" or similarly-named Unit link.
Use the following screenshots to identify the difference in appearance between the two platforms. These visuals are a general guide to color scheme and page layout. Course content will vary depending on the course, topic, and unit selected.
HTML5: No upgrade needed.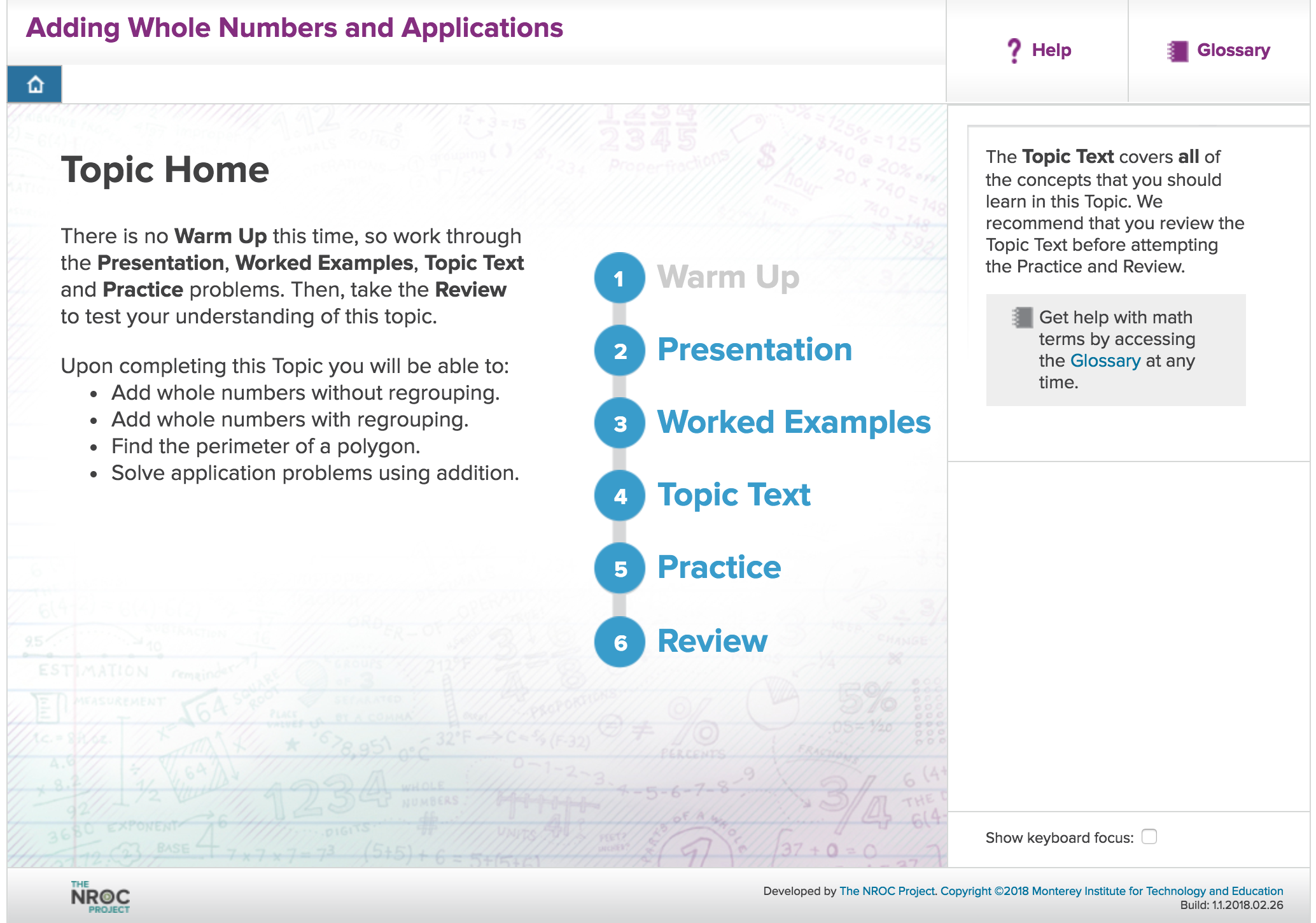 If your Topic or Unit content looks similar to the screenshot above, then you have an HTML5 course, and there is no further action required.
Flash: Upgrade required.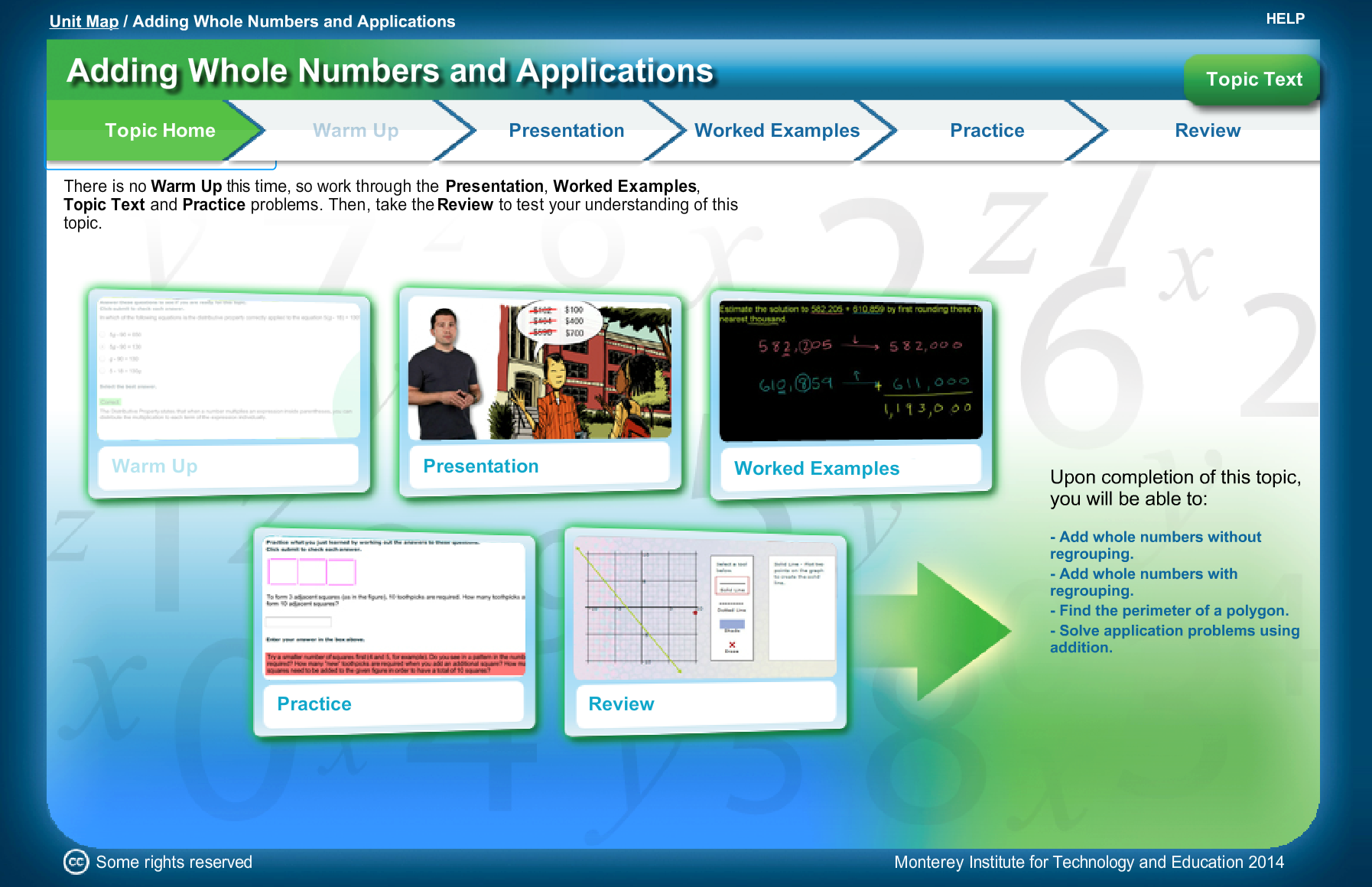 if your Topic or Unit content looks similar to this screenshot, then you must upgrade. Please follow the Next Steps below.
Next Steps to Upgrade
Instructors: Share this article with your LMS administrator. Ask that they install the upgraded version of your course, and provide you with access. Be sure to let them know how much lead time you require for making customizations before your next term begins.


LMS Administrators: Install updated course files (IMSCC format) and distribute the course(s) to your instructors.
You must be logged in to NROCnetwork.org with an account that can access secure content. Please reach out to your local NROC Project Manager if you need your institution's code to access these materials. (Get help with access code here.)
Login at the NROCnetwork.org website, and visit the appropriate page for the course you wish to update:

Fill out the course installation request form, and mention that you are upgrading from Flash to HTML5.

TIP: Need to update more than one course? Use the course selection checkboxes on ONE form to request any/all of the course installation guides at once.

Within two business days, NROC will provide links to the installation guides by return email, as well as general considerations related to upgrading.

Install the course per the instructions, test your LTI setup (if applicable), then assign the course(s) to the instructor(s).
Read the installation guides carefully, and get in touch with NROC Support if you need assistance.
Unsure how to proceed?
Please submit a ticket so that we can help you determine how to proceed.