This article contains the following information:
---
EdReady Career Pathways for Math Overview
NROC members and staff conducted a national survey of career and certificate programs, resulting in curricula-aligned, adaptable math readiness pathways. This set of more than 140 pre-loaded scopes is available for all member institutions to use or adapt for use with their students. They highlight the math concepts a student will need to know to be successful in different degree or certificate types across a variety of career programs (such as Agriculture, Business, Health Professions, and Mechanic and Repair Technologies).
If your institution is interested in getting started with EdReady's available Pathways scopes, these documents have the details you need to understand EdReady's capabilities and the depth and breadth of the Pathways available for you, all in a format that is perfect for sharing or printing.
EdReady is a powerful tool for career readiness, in addition to college readiness. To help support our members in using EdReady with students who are pursuing a career-focused path of study, we have created the EdReady Pathways.

The pathways are available for cloning by anyone who has permission to Manage Scopes in their custom EdReady site. Just like the other scopes available in EdReady, the scope of expectations has been pre-populated with our math subject-matter experts' recommendations, but you can edit as is appropriate for your audience.
Accessing EdReady Career Pathways for Math
To access the pathways as an administrative user:
Navigate to the Scopes tab
Click the Create New Scope button
Select the pre-loaded scope option
The list of pathways will be automatically included in the list of scopes available to you
--You can filter by name, or search by tag (by category and degree/ certification type) to find the career pathways you're interested in
If you want to see what math concepts have been included in the pre-defined scope, clone the pre-loaded scope for the pathway you are interested in. Then, navigate to the Customized Scope tab and click the Email Data button to have an excel file with the scope details emailed to you.

To help you customize these pathways for your students, we also have pathways-focused ready-to-use goal images available in our EdReady Media Toolkit (goal images can be found under the "Style Guide" section.)
We introduced the Pathways at our Implementation Office Hours on 11/3/15 - you can watch the recording below: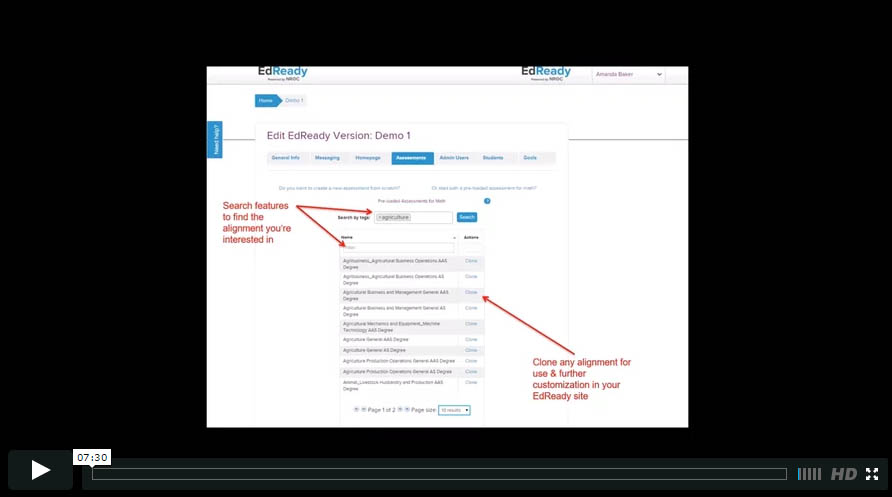 The full list of Programs included can be found here.
For more information on the development of the Pathways, enjoy this Webinar: Math Readiness for Career Pathways
Downloading Shareable Documents
Click here to download documents containing detailed information about EdReady Career Pathways that you can share and print.