This article contains the following information:
---
General Info
The Settings / General Info tab allows you to view & edit some high-level details about your EdReady site: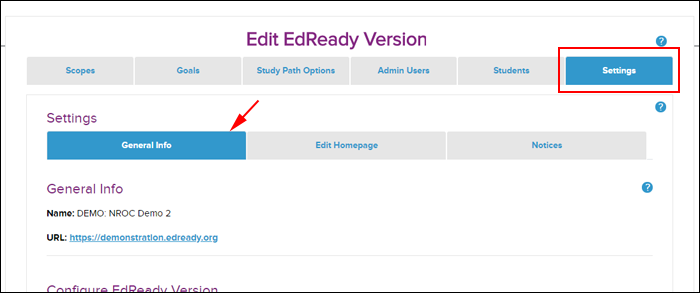 Name: the name of your EdReady Site – this will typically be the same as the name of your Institution or Organization. It is not editable and is not visible to students.
Url: the URL that students, reporting, and administrative users will use to access your EdReady site.
---
Configure EdReady Version
This section of the General Info tab allows you determine high-level behavior of your EdReady site: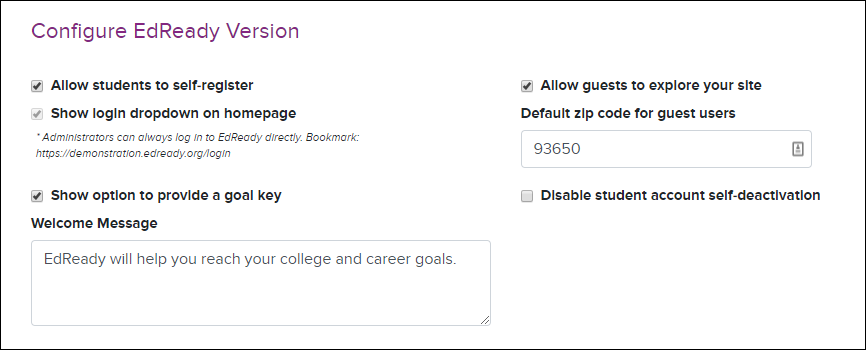 While you will likely keep this checked/on most of the time, you may have times or circumstances (such as a break in the school year where you're busy making goal & assessment updates) when you don't want new students signing up.
If this field is checked/on, students will see the Get Started button on the homepage: 


Disable student account self-deactivation: by default, students have the ability to deactivate their account on their My Account page. If you do not want them to have permission to do this, you can now disable this setting (for all students) by selecting this field.

This is especially useful for sites with a single sign-on integration in place, where student accounts should be managed in the SIS/ LMS
Note: when students deactivate their account, their data is not deleted. Instead, they cannot log in and they will show up as Inactive in the reports
Allow guests to explore your site: this field indicates if you will allow users to have guest access to your EdReady site.

If you actively have students registering for EdReady use, the addition of the Sign Up as a Guest button on the Sign Up page can too easily be clicked instead of the intended Sign Up button.  For this reason, we strongly suggest that you are careful to turn it off if you don't expect to be actively encouraging other teachers, admins, etc to use the guest access functionality.
Benefits of having your faculty/ staff use Guest access:

Since 'student' data generated when using EdReady as a guest is not saved, you will not end up with extraneous students or information in your reports.
Some assessment details (target score, and scope) cannot be changed once there is associated data from student use… even if that 'student' was just a member of your staff testing out the student experience! 
Guest access lets users access EdReady from a student perspective without having to complete the student registration process.

If you feel that assessment changes are possible, we strongly suggest that you encourage anyone who wants to test out the functionality/setup to use guest access.

Where the "Guest" button is displayed is dependent on the 'Self-register' field:


| | |
| --- | --- |
| | |
| If Self-register is checked, the Sign Up as a Guest button will be displayed on the Sign Up/Registration page | If Self-register is not checked, the Sign Up as a Guest button will be displayed on the homepage for your EdReady site |
Default zip code for guest users: this field is related to the 'guests' field. When students self-register, they are required to enter their zip code, but because there is no registration when using guest access, EdReady will use this zip code as the default for all guest users.

Show Login dropdown on homepage: when this setting is selected, the "Log In" dropdown menu in the header of your homepage (shown below) will be shown.


If you choose not to display this dropdown, the Log In page itself can still be accessed directly (at <youredreadysite>/login), but it won't be easily available for your users. This functionality was created for our members who access EdReady via single sign-on: this will allow them to prevent their users from attempting to log in directly at EdReady, forcing them to use the single sign-on functionality.

If you do not have a single sign-on integration in place, we don't expect that you'll turn off this option, as it will prevent all users (students & admin users) from being able to easily log into your site. 

Show option to provide a goal key: when this setting is enabled, your students will have the opportunity to enter a goal key from their Student Dashboard. It will only be enabled if you are not using goal keys (admins will always put students into the proper goals) or if goals will automatically be assigned via an SSO integration.


If you make any updates to the general information for your EdReady version, be sure to click the Save Changes button before navigating to another page.
---
Single Sign-On 
We may have the ability to set up a Single Sign-On integration with EdReady (typically from a Learning Management System of Student Information Sytem). This allows your students to log in to EdReady with an account they're already using, rather than needing to register and use a new account. 
For more details, visit this article: 
EdReady: Overview Of LTI Single Sign-On (SSO) Integration
---
Custom Sign-Up Fields
 Activate dialog to add custom sign-up fields: If you want to collect additional details about your students during the registration process (& have this data available in the reports), you can take advantage of the custom sign-up fields. Read more about this here.