Previous: Messaging Overview
You have the ability to add a Message in each of the four following areas: Homepage, Results, Dashboard, and Schools. (More details can be found in the 'How messages & the banner are displayed' section.)
To create a message, click the location the message should be displayed to students in the Type drop down, then enter your message in the Content area and click the Create button.
The content can accept html, including links and images, but any objects (pictures, videos) will need to be hosted outside of EdReady (there is no upload capability).
Note: the "Create a New Message" section will no longer be shown once you have created a message for all four locations.
Any messages you have created will show up in the Current Message section.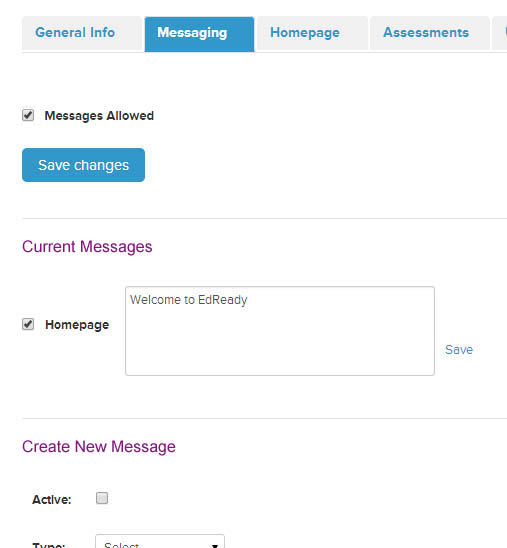 The checkbox in front of the message must be on/checked in order for it to be Active and visible to students. (You cannot delete previously-created messages, but can deactivate them to hide them from view.)

Editing a Message
If you make any changes (to the Active checkbox or ad Content) for your message, be sure to click the Save link.