Throughout the course, students have access to a Resources area that is specific to each unit. The Resources area includes links to the reading selection(s) and writing assignment for that unit, as well as to a list of "Foundation" lessons that cover the core concepts in each unit—general lessons on topics such as "Stating a Main Idea" as well as lessons on grammar, punctuation, and usage.
These Foundation lessons are also linked within the main course interface when it is installed in your LMS. This makes it easier to create a custom assignment that includes the Foundation lessons by using your LMS feature set.
Here is an example of how the Foundations look in the Resources box for Unit 1 (when accessed from the Unit home page):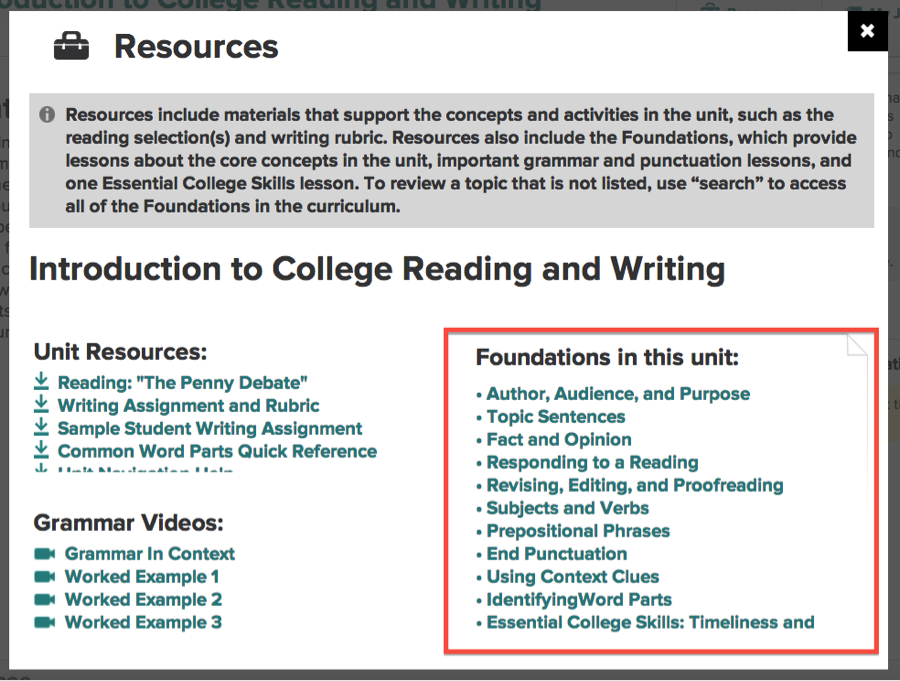 With a click, each Foundation lesson opens to include:
Learning Objective(s) – Provides observable/measurable student outcomes.
Lesson – Gives instruction on the Foundation topic.
Practical Application – Explains why learning the material in the Foundation will be helpful to students in real life.
Example – Supplies a guided set of questions and answers that help students learn how to apply the concepts they are learning.
Your Turn – Tests student comprehension of the material using the same types of questions used in the Example section, but with Show/Hide answers.
Metacognitive Questions – Encourage students to think about the material on a personal level.
Vocabulary terms within the Foundation lessons are highlighted in yellow. Clicking on a highlighted term will reveal the definition.
In addition to the Foundation lessons, students can view a list of grammar videos. The Grammar in Context video walks students through the grammar concepts and applies them to the reading selection and writing assignment in that unit. The Worked Example videos feature two community college instructors who use a whiteboard approach to teach grammar lessons using practical examples.
See also:
For more details on teaching with NROC English, please visit our Tutorials and Webinars.